DEK HOCKEY
Dek Hockey is another term for Street Hockey , Road Hockey and Ball Hockey. Quebec, Canada is known for using the term Dek Hockey for many of its leagues and associations. Other North American leagues and associations also use the term Dek Hockey too.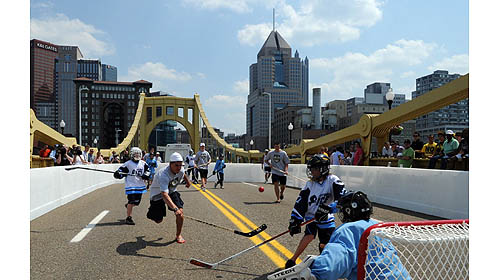 ---
HISTORY
It is believed that Ball hockey / Street Hockey / Dek Hockey took off when roads started getting paved in wealthier parts of North America around 1900. Lester Patrick, Art Ross, and John Galante are said to have been some of the earlier practitioners of the sport in Westmount, a part of Montreal.

Raymond W. Leclerc the creator of the No Bounce ball and Mylec, established organized basics for the game: a rink measuring 160 feet long by 80 feet wide, special lightweight protective equipment, a game that features no checking, and that all players ages 4 to over 50 could play.
He then established an organization with key members Thomas Downey, Dave Kornik and Chris Housser then governing bodies to guide and organize the teams and members through ASHI/IDTA (American Street Hockey Institute/International DekHockey Tournament Association) with a special Street Hockey Rule Book to control the game.
After a few years of experimenting with all the dynamics, Mr. Leclerc built a model site in 1974 to play and advance the game, known as "The Home of Street Hockey" in Leominster, Massachusetts consisting of 3 outdoor rinks along with the headquarters and governing body of Street Hockey/Dekhockey.
He is regarded as the founder and father of organized Street Hockey / Dek Hockey in North America
---
Mylec has been a pioneer in the street Hockey industry and can be credited with creating the first Hockey ball, the first plastic bladed stick and the first plastic playing surface. Today, Mylec offers a wide range of products for street and roller Hockey.